Recent French Bulldog Puppies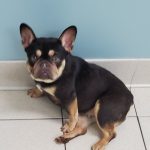 This is Coco. She is chocolate and tan she is very short and compact she is very lovable and a crowd pleaser.
Read More....
This is our stud Rusty. He is stocky short compact chocolate and tan carries a rainbow of colors. We have attached is DNA test.
Read More....